| | |
| --- | --- |
| Gaiscioch Community Notes | Issue 11, 2017 |
Cead Mile Failte!
Here we stand at the doorstep to our 17th year and as we look back we see an enormous amount of accomplishments. Here's some food for thought. In the 10 years that we've been tracking objectives, the Gaiscioch community has celebrated 266,292 victories across 33,074 events. 15,198 of those victories involved 20 or more people and 57 of them involved over 100 people.
We've traveled across 5 games: Dark Age of Camelot, Warhammer Online, RIFT, Guild Wars 2 and Elder Scrolls Online and have celebrated victories in 28 different Social Adventures. We've launched our own Magazine, Livestreams, Athletics Teams, and have been invited to countless testing and focus groups.
The stand out attribute to Gaiscioch is our inclusive attitude welcoming anyone and everyone to join our activities. Whether they are Gaiscioch members, Tuatha Alliance members, or just a random friend we picked up along the way.
As we cross into our 17th year and look back at the 16 years that lead us here I can't help but be proud of everything we as a community has accomplished. I also eternally grateful to the wonderful people who have come to make Gaiscioch home. I could never ask for better companions on this adventure. Let's jump on into the meat of this here newsletter as we've got some exciting things on the menu.
Directory
Get Involved
Gaiscioch Family News
November 11th 2017 at 5PM PT
Gaiscioch State of the Family
While every quarter we livestream our Gaiscioch Community Summit, our 4th quarter summit is a bigger production we call the Gaiscioch State of the Family. Each year we host this livestream for the public as a look inside the Gaiscioch Community. We cover where we've been, where we are, and where we are going. It is broadcast live on Twitch, YouTube, and Mixer and stored on YouTube for safe keeping. All members are encouraged to join us and this year I'll be giving away 5 Gaiscioch Patches to Twitch viewers throughout the event. If you can't make it, worry not, it will be available to watch later on YouTube. Be sure to join us on Discord for the Question & Answers session.
Here's the Agenda:
Introduction
Community Overview
Our History
Year in Review

Statistically Speaking
Charity
Chapters
Social Adventures
Magazine
Livestreams
Athletics

Our Forecast

Potential Chapters
Potential Social Adventures

Open Forum: Questions & Answers
| | |
| --- | --- |
| Tune in Live at: | Watch the Replay |
Saturday November 4th 2017
Gaiscioch Family Photo Day
Bring out your best dressed characters to this quarter's Family Photo Day. We will be taking a snapshot of each community to add to our homepage and use in the magazine. Find the dates below. If any social adventures want to coordinate a picture and send it in to foghladha@gaiscioch.com it would be appreciated.
Guild Wars 2
3:00 PM PT
At the Guild Hall

Elder Scrolls Online
3:30 PM PT
TBA

Rift
4:00 PM PT
TBA
Thank You Patreons!
Over the past 5 months we've managed to raise enough to offset the costs of running Gaiscioch. We've even begun building a little nest egg for some extra toys to add to our arsenal. I can never thank you guys enough for showing your support. I'm glad INTP talked me into it. It's definitely nicer than picking up another part time job which would pull me away from you guys. We are currently sitting at 90% our target.
If we can match the current target, I plan on making a stretch goal that will help fund the production of Gaiscioch Challenge Coins that will be awarded to Patreons when they hit the $20 total mark and also go into my congratulations kit for members who obtain the Laoch rank. I have found a few places that can make them and feel this would be a great token of appreciation for those who have helped drive this community forward.
September 2017 Patreons:
A. Smith

B. Chouinard

S. Starkey

R. Reynolds

M. Smith

Rhynor

K. Riseling

Darj

H. Townsend

R. Livernois

Void

S. Jones

M. Bukraba

L. Knudsen

R. Gale

S. DeRouen

Lorax

K. Burns

Whoflung

R. Mayer

Booie

Zoewii

E. Fulham

J. Boucher-Zamzo

E. Matthews

V. Hamilton

B. Terrell

J. Buczek

K. Vail Scheesley

B. Pervis
If you would like to get involved, please visit: http://gsch.info/patreon
Extra Life is Here!
On November 4th and 5th we will be hosting our 2-day livestream event for a total of 24-hours. Each day is split into 5 events spanning 12 hours. This year's game lineup includes Neverwinter on PS4, Defiance, Elder Scrolls Online, Guild Wars 2, RIFT, Fortnite and Fortnite Battle Royale. Each event will have a code you can use to claim at https://gsch.info/extralife to enter the various raffles. As we meet more fundraising marks more prizes will be added to the pile. This years event will be awarding Game Codes for Steam games that winners will choose from the prize vault. Each of these games has been provided by Gaiscioch Members who have flagged their donation as available for use in Public Community Events.
Get Involved
https://gsch.info/extralife
Please Welcome Four New Elders
As we close the doors to year 16 and step through the threshold of year 17 we've reexamined our support team and decided to bring on a few new elders to help support our chapters and future.
The largest gap in eldership was being painfully seen in Rift as Izzy was pulled away from game while she moved and interest in Rift began to dwindle after the expansion launched. Two members were nominated for the position to replace other elders that have moved to other games. These two have been heavily involved in our community since its return and received unanimous votes by the elder team. Please welcome Varder and Elaenna to the Eldership team. They will be helping Tip, Izzy, Rhynor and I look after the Rift players.
Our second task was to bring on a couple more for future projects and also support the community in more general tasks. Two members have been with us for well over 5 years and have been active Mentors for many of you. They are a husband and wife team that have been a big part of our community over the years and have been helping me on the future planning side of the game for a while. Ckemikal and Radiologikal will be joining our team as developmental support for current and future chapters. Ckemikal has been very active mentoring new players and Radiologikal has been working closely with me on Livestreams and investigating new potential titles.
Based on our current member count we did not need to appoint new elders for Guild Wars 2 or Elder Scrolls Online but plan to review in Q1 2018 to see if the trends in GW2 continue or level out as expected with post expansion scenarios. We typically see a sharp rise then a slow fall off 2 to 3 months later.
View our Full Elder Lineup at:
https://www.gaiscioch.com/about/leadership.html
Gaiscioch Family Promotions:
I wanted to take a moment to say congratulations to a few members this month for accepting their next credo and stepping into a new role in our family.
Legends of the Family (Laoch)
Among the most devoted in the community are the Legends. They have devoted more than two years of their lives to playing along side the family and have shown their devotion and commitment to our families beliefs and best practices. They encourage the new, teach the learning and support the community. These are the most trusted advisors to the elder council and occasionally they will request feedback, ideas and perspectives to help guide the future of the community. Above all else, Legends are shining examples of what all Gaiscioch members should strive to be. This role can be obtained by both leaders and followers and is the pinnacle of ones Gaiscioch career.
Veteran Members (Curadh)
Veteran Members have proven their devotion to the family by participating in events and contributing to the family's success. They have been active more than 90 days and have continued to be contributing members to the family.
» Radagar
Official Members (Lorgaire)
Official Members have earned the rank of Lorgaire and have accepted the Mark of the Kindred credo. They have officially decided to become members of the family and start their journey to ascend the roles of the Gaiscioch Family.
» Bodukeii » Carcosa » Daeke » Haywire » Kissa » Noshei » Orro » Pamdem0nium » Purchase » Robotsu » Silverleaf » Thelvinair » Ulgulu » Viera31b
Gaiscioch By The Numbers
Population
Group
Active
Guild Wars 2
366
RIFT
182
Elder Scrolls Online
172
Social Adventures
114
Total
615

Magazine
Group
Total
Subscribers
5,140
Readers
28,394
Views
558,499

Followers
Media
Total
Twitch
703
YouTube
488
Twitter
860
Chapter 4:
Guild Wars 2 News
Numbers On The Rise
With the release of Path of Fire, players have started resurfacing in bulk. As such our revolving door has been a lot more active than usual. I figure now is as good of time as any to explain how the revolving door works.
When a new or returning player checks in on the website it prompts the Elders to send them an invite. As the Elder invites they rotates out however many members they need to for us to keep our member count at 490. We rotate whoever has been offline the longest first. This afk window can grow to be several years in down times right down to where it's at now at 2-weeks. We keep numbers at 490 because if it caps at 500 it throws away all pending invites.
Thus we have 2 additional guilds, Gaiscioch na Morrigan and Gaiscioch na Anu that serve as prescreened membership. Each member can be in ONE of these two guilds.
If a member is in either Anu or Morrigan commanders as well as elders can invite them directly into Gaiscioch na Rall without needing to check in on the website. Each of those rooms is currently rotating at about 2 years afk.
Now even though being in Morrigan and Anu is totally optional, it does fast track you for invites back into the main active room Gaiscioch na Rall. It also gives you access to lower level crafting nodes which can be farmed in addition to Rall's top tier.
Great Tyrian Adventure Season 4
We are off to the races. So far more than 140 players have attended the Great Tyrian Adventure Season 4. We've had between 80-100 players each week making this one right on target.
The good news is that we literally met our goal for attendance which means we will be successful in our endeavors without the mass chaos that comes with having to run multiple instances of the same event. Too many and it gets increasingly more difficult.
Be sure to join us Thursdays at 5PM PT and visit https://www.greatyrianadventure.com for details.
Special thanks to Soren for helping me command these shenanigans, Kitty for being our lovely announcer, Gma & Briseadh for being group management support, and the countless Gaiscioch who ponied up time, materials, and effort to make this a success. Our community truly shines during events like these.
Please Welcome Our Newest Members
Please welcome our newest members to our Guild Wars 2 family.
» Altoric [Altoric.9513] » Asregin [asregin.2018] » Aweskelo [helix.1723] » Bait [jeffaxel.6758] » Caveman [caveman.8237] » Daeke [David.1208] » Darkrazor [Darkrazor.5908] » Deltron [Deltron.6152] » FailPail [FailPail.5634] » Floxel1980 [Floxel.1980] » Foshka [foshka.1072] » Grisorai [Rocelt.2547] » Haydn [Haydn.5497] » JuniorRider [Ctrl Z.3501] » Mythia [Tashara.8937] » Noshei [Noshei.6817] » Rebecca [KillerStar.9786] » Tpeyra [Tpeyra.7420] » Wags [Wags.7125]
Guild Wars 2 Events at a Glance
All Times Pacific
Top Guild Wars 2 News For October, 2017
Legacy Chapter 5:
Elder Scrolls Online News
Clockwork City DLC Launched
This month we saw a new DLC make it's way to the live servers. The Clockwork City DLC is free to all ESO Plus members and sets players on a journey into Sotha Sil's Clockwork City to investigate a new Daedric threat. Players can explore unforgettable architecture, strange creatures, and slay powerful monsters. For those who are looking for a new 12-player challenge, enter the Asylum Sanctorium and earn new Asylum Weapons by defeating the Clockwork Saints. Earn unique armor sets, character customization items, crafting motifs and more.
You can learn more about this DLC at:
https://www.elderscrollsonline.com/en-us/updates/dlc/clockworkcity
Please Welcome Our Newest Members
Please welcome our newest members to our Elder Scrolls Online family.
» Clerics [@Clerics] » JennykinzZ88 [JennykinzZ88]
Elder Scrolls Online Events at a Glance
All Times Pacific
Top Elder Scrolls Online News For October, 2017
Legacy Chapter 3:
RIFT News
Rift 4.3: Crucia's Claw Released
This month RIFT launched their first Tier 2 Raid for Prophecy of Ankhet expansion in the for of an upgraded Bastion of Steel. In addition they released the mystic archer soul to mages that allows them to use a powerful bow that grows in strength with them.
You can learn more at:
https://www.trionworlds.com/rift/en/2017/10/03/4-3-crucias-claw-october-25/
Rift Adventures Livestream
Our weekly Monday livestream is going to be put on Hiatus for awhile while new forms of engaging content make their way into game. In it's place we will continue hosting a Monday Night Rift Stream in a more casual nature allowing us versatility in activities each week. I will still be holding giveaways for viewers but will likely be streaming to Twitch only until Rift Adventures resumes. I plan to revisit various types of activities like Hunt Rifts, World Bosses, Strongholds, and kill Volan more often during these events. We might take trips into various dungeons if population is low.
Rift Chapter Status
Emotions continue to stir as more players seem to be taking breaks and I want to set your mind at ease that we have no plans to close the RIFT chapter again. Our new Legacy Chapter threshold is 50 active players before it becomes a Social Adventure. I don't forsee RIFT getting anywhere near these numbers anytime soon and we will continue keeping an elder presence in game. We have brought on Varder and Elaenna to help keep things moving forward. So please rest your mind at ease and know regardless of what others have decided to do we will continue keeping our lil community alive in RIFT.
Please Welcome Our Newest Members
Please welcome our newest members to our RIFT family.
» Crimson » RingOfSteel
RIFT Events at a Glance
All Times Pacific
Top RIFT News For October, 2017
Social Adventures News
View Full Social Adventure Directory
Gaiscioch Magazine News
Slight Delay in Issue 14
Well sometimes life just pops up and delays those plans you worked so hard to make. This month i've been slammed with work and preparations for Extra Life and Great Tyrian Adventure. I haven't nearly had the time to finish the magazine I hoped. We have moved our launch date back to Nov 15thish. We will be releasing several articles direct to site between now and then so keep an eye on the website for more.
Gaiscioch Magazine:
https://magazine.gaiscioch.com/
Be sure to check out our latest stories and gaming news at: gsch.info/mag
Gaiscioch Livestream News
Weekdays at 3PM PT
PlayStation Adventures
Our November lineup includes RAID: World War II, Neverwinter, Orcs Must Die Unchained, Shadows of War, and Fortnite. We have several surprise games on the horizon we will likely air on Tuesdays as they become available. On the off weeks we plan to show various parts of Neverwinter. We will continue monitoring viewership and see which game pulls the best for us and continue streaming it. You can also vote for the game you'd like to see at: https://gsch.info/psadventures
Mondays at 6PM PT
Rift
Join us Mondays at 6PM PT for your chance to win Rift loot. We will be venturing to the far regions of Rift, exploring various activities all the while being our crazy selves. Join us in game or on Twitch!
Thursday at 5PM PT
Great Tyrian Adventure
Join us throughout November for the Great Tyrian Adventure in Guild Wars 2. Each week we will be taking on a different objective and raffling off some pretty cool prizes. Be sure to check it out. Learn more at: https://gsch.info/gta
Friday at 6PM PT
The Siege War of Guild Wars 2
Each week we split our battle between WvW and EoTM as we take to the field an hour before reset and then change battlefields half way through the event. We show some of the best siege warfare in the game from both battlefields.
Saturday at 11AM PT
The Siege War of Elder Scrolls Online
We are continuing our adventures in Sotha Sil for the month of November as Foghladha inches his way to CP160. We've had several new members to the community join us and we will be focusing on teaching people about AvA. We will also do a fair amount of PvE exploration and delve killing.
November Episode Linup:
Gaiscioch Athletics
New Away Game Uniform Has Arrived
We may not be the best Flag-Football team to ever take the field, but I can say with certainty that we're the best dressed. Our newest addition to the Jersey lineup has arrived and is now available to order through Mojo Sportswear. You can check out the full lineup of new apparel items at: https://gsch.info/armory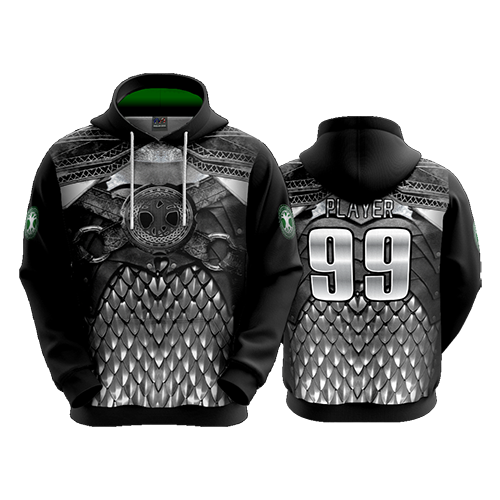 Closing Notes
I look forward to seeing you all on November 11th as we welcome our new year. Feel free to connect with me on Discord if you have any questions.
Slan Go Foill!
(Goodbye For Now)
Benjamin "Foghladha" Foley
Taoiseach de na Griobhta Glas